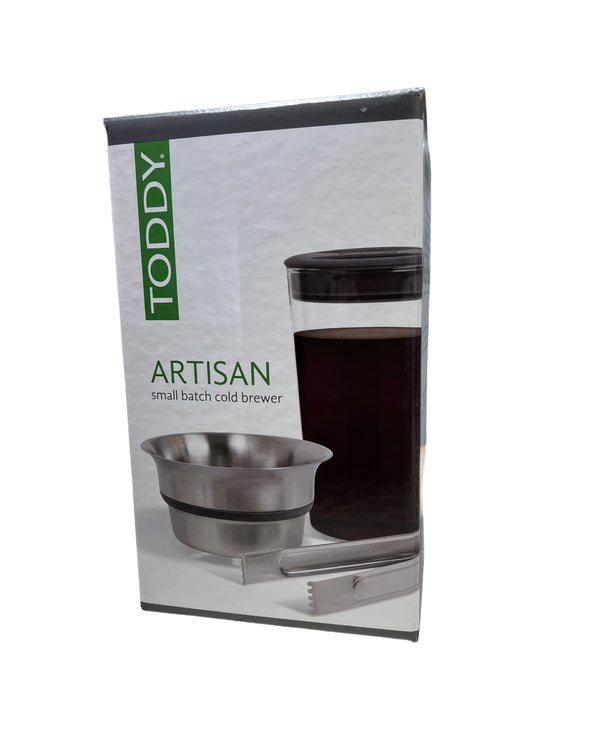 Toddy Coffee maker utilizes the cold-water or 'cold press' method to extract the true delicious flavor of coffee beans and eliminate much of the acidity. Produces a bold, super-smooth coffee that's easy on the stomach and can be served one cup at a time.
What's Included:
Brewing vessel
Silicone lid
Filter basket
Tongs
12 compostable paper filters
Compatible with Toddy® SB Paper and Tree Free Filters | The Toddy® Artisan makes it simple to brew delicious coffee and artisanal tea, pairing pure cold brew function with a modern, minimalist design. Brew up to 17 oz. (500 mL) of refreshing cold brew in a convenient brew-and-store container that tucks neatly into most refrigerator doors.

With the versatile Artisan, you can enjoy cafe-quality cold brew at home. Try out new specialty coffees, fine-tune your recipe, or keep a batch brewed and ready for some improv cocktail/mocktail sessions.

The Artisan is compatible with Toddy® SB Paper and Tree Free Filters (formerly known as Cold Brew Cupping Kit Filters).
Toddy Cold Brew System Home Model brews a rich coffee concentrate using the cold-water extraction method
Easy way to brew 67% less acid coffee using fresh roasted Black Powder Coffee
Extracts the coffee bean's true delicious flavor and eliminates much of the acidity to produce a bold, super-smooth coffee that is easy on the stomach and can be served one cup at a time
Popular for making iced coffee beverages
HDPE plastic and glass construction
Hand wash
1-year manufacturer's warranty
Made in USA